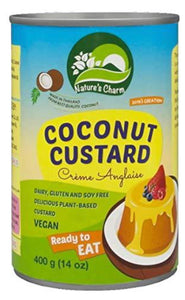 Natures Charm Coconut Custard is a lovely plant based custard ready to eat from the can. Delicious on its own or use in cakes, trifles, pies, crumbles and more.


Vegan, Gluten free , Dairy free, soy free 
Ingredients: coconut milk 70%, virgin coconut oil, coconut sugar, thickener (tapioca starch , salt, stabilizer (xanthan gum, microcrystalline cellulose), natural coloring, emulsifier (polysorbate 60), vanilla extract.