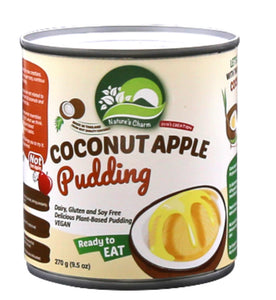 COCONUT APPLE, The healthiest & probably tastiest part of a coconut! People in the tropics have long known about the health benefits of coconut apple & have been eating them for decades. Nature's Charm have created a delicious vegan Pudding by combining Coconut Apples with delicious Vanilla Custard that is heavenly hot or cold!
290g. Ingredients:  Coconut Apple 50%, Coconut Mik (Coconut Cream,Fitered Water) 41%, Cane Sugar 6%, Coconut Sugar 2.5%, Sea Salt 0.19%, Corn Starch 0.1%. Tkkener E488 0.1%, Natural Varla Extract 0.1%  
 Gluten free, dairy free.